Getting to know us at Eli Brook Labradors
Our Story
A little about us here at EliBrook Labradors. Well, the story does start with Eli, he was named after the brook that runs through our farm. He was our heart beat and every dog that we have owned since Eli has had some big shoes to try and fill. We believe that if our goal is anything other than bettering the Labrador Breed we shold not be doing this. I love having the puppies here, meeting the perspective owners, and knowing that I have done all in my ablilty to find a perfect match. Along with being passionate for my dogs, I enjoy my horses and showing on the Quarter Horse Circut. It is my goal to make you feel part of our lifestyle and the joy that we share here with our family and pets.
Sharing some of our thoughts on Labradors
We have been breeding Labradors for 20 years now. We breed specifically ENGLISH labradors. They are blocky in the head and body and have the classic "Otter Tail". They have a laid back personality, are great companions and will be your best friend for life. We work with NYS, what that means for you as a consumer is that we are inspected and required to maintain certian standards. The state guarantees the puppies health, as do I. We do Penn Hip certifications somewhere between 8 months and 2 years old. I feel it is a more complete testing of the hip than OFA. We also do elbow preliminary clearances. The puppies leave here with health guarantees, shots, wormed, vet checks, and dew claws removed.
Invisible Fence....Yes, yes, yes...I sadly lost Cecil on December 8th, 2011 because our fence was not working and I didn't like being "mean" to them with the shocking collar. He was not typically away from me and I thought I could keep track of him. All it took was 3 minutes time. I now am minus a very special dog. Do I use the collars all the time now? YOU BET I DO.
Important Information: Weight: One of my main concerns for a puppy when it leaves here is weight. English Labradors tend to be stocky by nature. Add to that equation, adoring family members and we can have over feeding and eventually obesity. An over weight puppy and dog are more prone to joint disorders, diabities, and overall poorer health. We recommend the types of dog food that are best for your puppy, how much to feed and what to feed. What we recommend for treats and exercise is also included in my puppy packets. I try to stay updated on current changes in diet.
Exercise: Exericise is very important for your labrador. We recommend walks in small distances at first, increasing as they grow. Play time with balls, retrieving sticks and walks are great. NO JOGGING or RUNNING far distances for the first 18 months. The skeletal frame is forming and the percussion of jogging will harm your dog.
BELOW:
KEN AND I WITH VIKING AND BINDIE GETTING OUR 2010 CHRISTMAS TREE. ( HOW DID A BLUE HEELER GET IN THIS PICTURE?)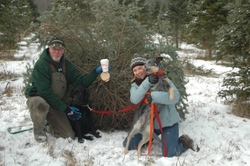 Others
For addition information we recommend visiting the Pennhip Association, American Kennel Club, OFA, Orthopedic Foundation of America.
Contact me @ 315 853-5565